Anyway, I'm enough of a fan-geek to watch YouTube fan videos of the Tochelle 'ship. This is one of my favorites!



And if you've ever watched 24, then you should get a kick out of this video. It runs a bit long, but I found it to be quite hysterical!


While I still love my 24, it has just not been the same since Tony and Michelle were senselessly killed off (not that I'm biased or anything...)


We then took the subway uptown to Columbus Circle and easily found the TimeWarner Center, where we were going on our CNN tour. Basically, it was one huge shopping mall. We went up to the third floor, and found ourselves in the CNN gift shop. Hilarity! Heather bought me a blue tank top that says "I <3 my CNN" and I purchased a CNN mug and (because how could I not?) a pink tshirt that has the Anderson Cooper 360 logo in a heart. =P I will wear it with pride here at work one of these days. The tour was pretty cool. We saw a lot of cheesy videos where the journalists talk about why they got into journalism and why CNN rules, but there were things about how CNN operates and how stories make it on air. Heather gave a lovely demonstration of how the telemprompter works, lol. We also walked over the newsrooms and saw the staffs for Paula Zahn Now and Anderson Cooper hard at work. We also saw the sets for American Morning and Larry King Live, as well as Glenn Beck's set. The cool thing about that was Glenn Beck was actually in the studio at the time, and he actually chatted with our group.

After the tour, we went downstairs at the TimeWarner center and went to the two-level Coach store (or as I call it...Mecca) and, of course, I bought a new bag. Its gorgeous, and as far as Coach bags go, wasn't that expensive. Because our feet were killing us, Heather and I went back and crashed at the hotel until it was time to get ready for Avenue Q. After getting all dolled up, Heather and I went to see the show (thankfully the theatre was right next to our hotel, so we could wear our hot but impractical shoes!) If you ever have the chance, go see this show! It was politically incorrect and hilarious. Yay puppet sex.

After the show, Heather, Kathleen, Kate and I went to Carmines for dinner. We only had to wait ten minutes to be seated, and we ordered, oh, just about everything on the menu. ;) We had the manicotti, spaghetti, fried zuccini and penne alla vodka, all of which was amazing. Oh, then there was the chocolate torte that I got for my birthday, as well as two VERY strong cosmos...yummy!

Friday. Heather had to go work (boo!) so she had to catch a 6am train back to DC. Apparently, a heroin addict told her she was pretty (riding the subway at 5am is fun...) After checking out of the hotel around 11am, Kathleen, Kate and I met up with Ivan at the Virgin Records store. It was so fun getting to see him again. The best news is that he'll be down in DC with his girlfriend in a couple of weeks, so that should be more fun times. Anyways, we spent the day eating at the diner near Times Square where the waiters and waitresses sing (they were amazing, FYI) and Tastee Delight (mmm..guilt free ice cream.)Afterwards we loitered outside the diner for a good 40 minutes about theatre and politics before crossing the street where we could sit down. After awhile, we decided it was time to collect our bags from the hotel and head towards Penn Station. After walking for what felt like forever and waiting for the freaking train, we were on our way back to DC (albeit 20 minutes late!) We rode in the cafe car, and I listened to my Ipod the entire time, and passed out somewhere between Wilmington, Delaware and Baltimore.

There was no rest for Kathleen and I went we made it home. We literally dropped off our crap, packed our swimsuits and took off for Stafford to Ian's pool party =) I was exhausted, but it was totally worth it. We had a blast swimming, playing Kings and chatting with our favorite Oklahoma people. Good times, as always.

Sunday, we spent a good portion of the day at Nanette auditions. I blew hard. Seriously. I had to change songs because I had no voice, so...yeah it was special. I forgot the words and I sounded terrible because, again, I had no voice. Callbacks are today, and while it still sounds scratchy, my voice seems to be doing a lot better. We'll see though. All I want is a place in the ensemble =)

After auditions, I went out with the family to Cheeseburger in Paradise (so good!) Later, Heather and I went and played mini-golf at Burke Lake and we got the same exact score (78!!) On one hole where we both particularly sucked, the 7 year old behind us got a hole-in-one. Yes, the seven year old was better than us. Oh, the shame =P

So to wrap it all up, it was a very, very good week. =) Now, its time to actually get to work....
Thursday: Heather and I got up and went out for "breakfast" (greasy New York pizza) in Times Square. We then walked around the Virgin Records store for awhile, before popping into the huge Toys R US store. Toys R'US kicks FAO Schwartz' ass--toys everywhere, plus a more extensive Barbie collection. Yes, we bought Sean the Project Runway Barbie. I'm sure he'll be pleased ;)
Current Location:

Work

Current Mood:

cheerful

Current Music:

Fox News program I should be monitoring...


It all started on Wednesday, when we took the 7:50 am VRE train to Union Station, where we were very early for our 9:30am train to New York. Three hours and one uneventful train ride later we got to the city, and I successfully navigated the subway system to get to our hotel on 45th and 8th. After checking into the hotel (and Heather cracking up the hotel staff with her Debbie Downer observations--"6th floor? Great! The ladder will be able to reach us in case of a fire!") Heather and I took a walk around midtown to find some good New York pizza. On our way, we passed the theatre where they were loading in Martin Short's new show. As we got to Times Square, all of a sudden, there was Martin Short walking towards me. Five minutes into our trip and I had a celebrity sighting. Whoo! Heather and I were successful in our mission to find good pizza, then we took a walk up 5th Avenue, where we stepped into Saks. We walked around looking at the handbags, and saw some of the most God-awful pieces of crap!! One Fendi bag in particular looked like a 2 year old had put it together with some cloth and cat hair was "on sale" for $800. I should have taken a picture of that, but it probably would have been tacky. We also went to Tiffany's, which just reminded us that we need higher paying jobs (or rich husbands.) We got to Central Park, where we sat down to rest our feet and talk (as well as being the first location where Heather attempted to kill herself on this trip...) On the 14 block trek back to the hotel, we stopped and sat outside a hotel and people watched. There must be something in the water in New York, because it seemed that just about every other woman in Manhattan was pregnant! Seriously. Pregnant woman are taking over the city (Kathleen's friend Kate: "It's a plague o'babies!)

Before we got back to the hotel, we stopped to go into this bar that was advertising a day-long happy hour. Beer was $2 and Bacardi drinks were $4, which is about as reasonable as one can find in New York. We walked in and the place was empty (of course, it was 4:30pm on a Wednesday...) It was great, they had giant plasma screens above the bar and they had CNN on, and I was like, I should be watching that now at work, but I'm not, muahahahaha. We had a couple of drinks, and when the cute bartender found out it was my birthday, he gave me a free drink. It's been a very long time since I've been tipsy on a weekday afternoon. Oh! While we were at the bar, this guy who had tried to sell Heather and I his CD (he told us he was a DJ) in Times Square about 3 hours earlier, walked into the bar and asked to use the bathroom. The bartender told him the bathroom was for customers only, and the guy freaked out, and as he walked out he pointed to his arm and said, "I know what the problem is, my skin's to black for you! Fucking racists.." Yeah, it was kinda awkward after that.

Having achieved my goal of being drunk in New York, we went back to the hotel to shower and get ready to...go drink some more. For dinner, we went to Sardis, where I had a very strong cosmo and delicious steak. Heather and I discussed the lack of proper ettiqute nowadays, with the Midwestern tourists dressed in jeans and tshirts walking over to our table and staring at the caricatures above our heads...so rude! Afterwards, we went to the revolving lounge on the 48th floor of the Marriot Marquis, where they have an actual dress code. The only sucky part was the $7 cover charge for "non-guests", but that was made up for by the incredibly strong drinks and amazing view of Manhattan. This is where Heather again tried to hurt herself though, when from out of nowhere she dropped her water glass and it shattered all over the table. Thankfully, she wasn't too hurt, shards of glass in the hand and all.

We then went back to the hotel to change out of our very impractical shoes that were killing our feet, and then we went to a few random bars. We ended our night by going to the Irish pub that is in the hotel to celebrate with a drink in hand at midnight and the start of my 24th year of being alive. One guy found out it was my birthday, so he bought me a cranberry and vodka. While talking to him, the bartender brought us a couple of shots and told us it was from these guys at the other end of the bar. We kept talking to this other guy, when the bartender brought over a second round. After the guy we were talking to left, we went over to thank the guys for the shots, and they ended up buying another 3 or 4 rounds (who knew SoCo and raspberry went so well together?) These guys were...interesting. They were Noel and Tommy, and every time we would take a shot, Tommy would say, "here's to us getting cuter!" and I kept thinking to myself that that would not be happening. Oh, and I suck at taking shots now. I can't do it. Even the bartender was yelling at me. "Don't be a pussy!" Noel, on the other hand, kept telling me that since he quit smoking, his ass looked better. He would get up, start shouting, "look at my ass! look at my ass" and rub it along my leg, despite my efforts to get out of the way. It was at that point that Heather and I decided to call it a night, so we thanked the guys and went up to Kathleen and Kate's room to recount our adventures of getting drunk at other people's expense. It was a good night and a perfect way to start the trip.

Okay that took forever to write, so I'm taking a break. Part 2 coming soon.
This week's trip to New York was exactly what I needed: 3 days off from work, drinking, eating lots of stuff that's bad for you and shopping.
Current Location:

Home sweet home

Current Mood:

calm

Current Music:

Sex and The City
Last night was a blast! Kathleen and I went over to Ryan's house, and Dan was there, and we had so much fun playing Mario Kart and Mario Tennis. I kicked some butt on Mario Kart (though Ryan is a worthy contender) and Kathleen and I did pretty well on Mario Tennis, even though the boys still won. I own Mario Tennis, so I think Kathleen and I will have to work on our game first before we play again. Still though, for her first time playing, she did really well!
And now, courtesy of Page, more Oklahoma pictures behind the
(
cut
Collapse
)
Oh, the memories. Well, off to start another fantastic weekend. Take care everyone!
I'm just a little excited, can't you tell? Hehe. Anyways, today is the first day of Nanette auditions. I think I'm going to go and hang out with Kathleen down there. She's not auditioning until tomorrow, and I'm not auditioning until next weekend, but I don't have much else to do today, and I hate to admit it, but I'm having LSDT withdrawal ;)
Current Location:

Home

Current Mood:

nostalgic

Current Music:

The birds chirping


O-K-L-A-H-O-M-A
"Oklahoma"
April 5 through July 9, 2006

At the Lazy Susan Dinner Theater in Woodbridge, VA.

Show Times:
Tuesday through Friday
Doors open for seating and cocktails at 6:00 PM
Dinner Buffet begins at 6:30 PM
The Curtain goes up at 8:00 PM

Saturday
Doors open for seating and cocktails at 6:00 PM
Dinner Buffet begins at 7:00 PM
The Curtain goes up at 8:30 PM

Sunday
Doors open for seating and cocktails at 5:00 PM
Dinner Buffet begins at 6:00 PM
The Curtain goes up at 7:30 PM

*Sunday Matinees*
Doors open at 1:00 p.m.
No evening performance.
5/14, 6/18, 7/9,

Regular Admission
Sunday, Tuesday, Wednesday,
Thursday, and Friday - $36.95

Saturday - $39.95

Youth 11-15 - $30.00
Children 10 and under - $20.00

(Please Note: Prices Includes Dinner, Show, Coffee, Tea, and Tax)

Call (703) 550-7384 to make your Reservation!


Traveling South on Interstate 95 from the Washington Area: use Exit 161 labeled "Woodbridge, Route 1 South". You must be in the Left Lane of Interstate 95 to use the Exit, unless you are in the Express Lanes. As you come off the exit ramp onto Route 1, the "Lazy Susan" sign is visible on the right side of the road. Turn right at the first intersection, and then immediately turn right into the Lazy Susan's driveway.

Traveling North on Interstate 95 from the Dale City area: use Exit 160 labeled "Occoquan, Woodbridge, Route 123". This is a Right Lane exit onto Route 123. Use the ramp to Woodbridge. Go East less than one mile to the intersection of Route 1. Turn left onto Route 1, and cross the Occoquan Bridge in less than a mile. Turn left at the first intersection after the bridge, and immediately turn right into the Lazy Susan's driveway.
Kathleen: I bogarted your OK crew user pic. I LOVE it! =)
Current Location:

Work

Current Mood:

bouncy

Current Music:

Silence


New Orleans: Should there be Mardi Gras, albiet a shorter one, this year?

Pros: Pump millions into the local economy when it needs it desperately; symbolic sign that New Orleans will return stronger than ever; Some residents think it would be a good diversion from the hardships they are facing

Negative: Diversion of police and security forces off of guarding neighborhoods to securing Mardi Gras; there are still portions of the city without power and lots of cleanup left to be done; would people actually come to New Orleans; and many evacuees don't feel it would be appropriate to 'celebrate' during a time of great need.

It's a complicated question. I'm just interested to know if there is another perspective that I'm missing?
I'm making this post public because I'm interested in getting people's opinions on this issue.
Current Mood:

curious

Current Music:

Wolf Blitzer talking about...stuff....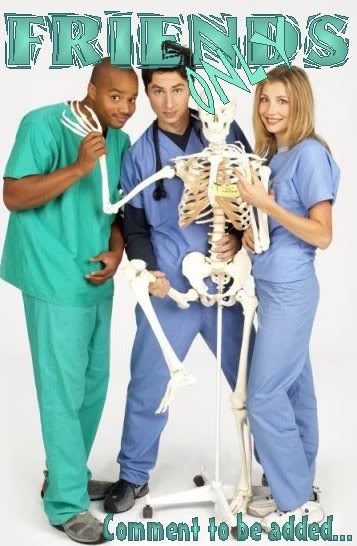 Credit: Banner courtesy of fellow Scrubs fan
tigra_aurora